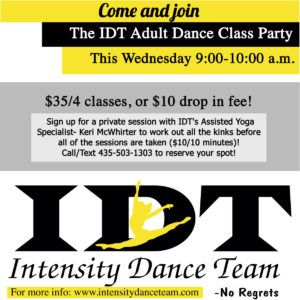 This is a real dance class with stretching, technique, Pilates conditioning, fresh original choreography and yoga used in the cool down. This is far beyond an "exercise class". It is a full on dance class modeled after the dance classes your kids take, but designed just for moms/adults.
Karissa welcomes your input to tailor the class to be just what you want it to be.
Call/text 435-503-1303 to register today!
Tuesdays 8:00 – 9:00 p.m.
Wednesdays 9:00 – 10:00 a.m.*
*Wednesday morning dancers can sign up for assisted yoga private sessions with                                Keri McWhirter (bio on IDT Staff page of blog)!