Summer Dance Camps for All dancers 6-18 years old!
Two camps offered for every age group. Each camp will offer new choreography so a dancer can enroll in both camps to make sure their whole summer is filled with all kinds of excitement and progress.
Members of the 2017-2018 IDT Competitive Teams will be chosen from those dancers attending IDT Summer Dance Camps! Call/Text (435)503-1303 to check availability and reserve your dancer's spot. Then register online. Spots are already filling up, so make plans today for a great summer of dance!
Let's Dance!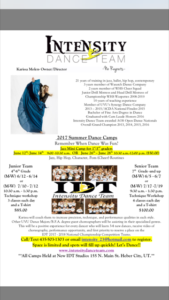 All dancers 3-6 years old are invited to participate in the
The IDT Creative Movement Summer Camp.
This camp is tailored to explore new movement qualities while celebrating individual creativity. Limited availability. Register today!