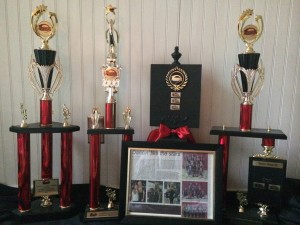 Intensity Dance Team is directed by Karissa Molen,
Bachelor of Fine Arts-Dance (UVU 2016)
(20 years of dance training, and teaching experience).
She is the director/choreographer/instructor of the IDT Competitive Dance Teams.
Definition of "Intensity": Strength, Power, Passion, Brightness of Light
Intensity Dance Team helps young people find their inner power and strength through dance; allowing their light to shine as brightly as possible.
Karissa wanted it to be a team, rather than a "company" indicating that the goal is for the dancers to work together to lift one another up rather than compete against one another for higher status.
That is how "Intensity Dance Team" was  named.
Karissa's focus is not to just train professional dancers. She wants to provide a way for young women to build self-confidence through dance. She creates choreography that highlights their strengths and help them to believe in themselves. She wants them to take the positive experiences from the studio into life and realize their power and worth.
The Intensity Dance Team focuses on the power that dance can have in building self confidence, encouraging artistic expression, and preparing dancers for exciting scholarships and performance experiences. It also provides a positive atmosphere where dancers refine technique and precision through Jazz, Ballet, Contemporary, Hip Hop, Tumbling and Character Styles of Dance. Karissa's goal is to balance productive time in the studio with important time outside of the studio with family, friends, and other positive endeavors whether it be sports, music, theater etc. She believes dance can bring a level of confidence, artistry and success to every area of a dancer's life in combination with other self-expressive and positive activities.
Remember when dance was fun?
Intensity Dance Team